Organizers of a gay bowling night that was told to shut down two weeks ago in Orange County, California say that they were unfairly targeted because the event is hosted for gay people and that other events with live entertainment at the same venue are not subject to the same rules.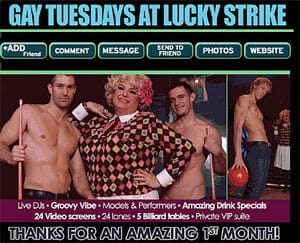 The OC Register reports: "Sgt. Fred Lopez said today that the event often attracted hundreds
of people who stayed until the early-morning hours to dance and listen
to amplified music, a violation of the bowling alley's conditional-use
permit. 'That's become a problem,' Lopez said, noting the alley
has received multiple warnings. On Tuesday nights, officers had found
500 people at the venue. 'When we go over there at 2 in the
morning, expecting to find 30 or 40 people bowling, and instead we see
… velvet ropes with 120 people waiting outside – that doesn't look like
a bowling alley to us. It looks like a nightclub, and they can't do
that.' Law enforcement has no problem with the 'Spin Tuesday' event, Lopez said."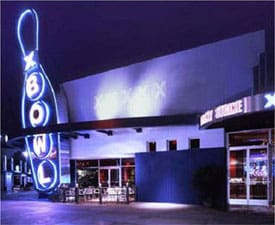 Organizers differ with police, according to the LA Times: "They were targeted by police, they say, because it was a gay event. 'Everyone's feeling like the gay community is not welcome here,' said Zach Moos, 34, one of the event's promoters and DJs. Gay night at the bowling alley, Moos points out, was shut down while other nights with live entertainment were left alone…Since being booted out, Spin Tuesdays has become nomadic, planning to
meet at other bowling alleys and bars around Orange County. But Moos, the DJ, contends that police continue to tail the event. On
Tuesday he convened a spontaneous get-together of a few hundred people
at Dave & Buster's in the same mall, and several police officers
arrived and followed them inside, he said. Lopez said that if the officers did show up at the event, it was either a routine bar check or a coincidence. Moos remains unconvinced. 'They're after us, they're chasing us, and we're not doing anything
wrong,' he said. 'I'm the last person to cry discrimination, but
there's definitely some bias here.'"