In Montpelier this morning, Vermont House Judiciary Committee voted 8-2 in favor of approving same-sex marriage in the state. The bill now moves on to the full House for debate Thursday: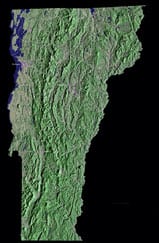 "Committee members who voted for the bill were: Eldred French,
D-Shrewsbury; Willem Jewett, D-Ripton; Richard Marek, D-Newfane;
Cynthia Martin, D-Springfield; Kathy Pellett, D-Chester; Heidi
Scheuermann, R-Stowe; Bill Lippert, D-Hinesburg and Maxine Grad,
D-Moretown. Voting against the bill were Peg Flory, R-Pittsford and Andrew Donaghy, R-Poultney. Patti
Komline, R-Dorset, wasn't in committee during the debate or this
morning's vote, though she has said she supports the bill. Before
the vote, the committee added an amendment to the bill to strengthen
protections for religious organizations that choose not to recognize
same-sex marriage, an addition that was tied to Scheuermann's
supporting the bill. The amendment means that the bill will have to
either return to the Senate after the full House's action or go to a
conference committee of representative's from both chambers to work out
the differences."
Former Vermont Governor Howard Dean urged lawmakers to vote in support of the measure, which current Governor Jim Douglas has threatened to veto.