When Miss California, Carrie Prejean, defended the anti-gay remarks that led to everyone talking about her for the next two weeks, she claimed her sister was a "gay activist." Her sister now says she was surprised by that title.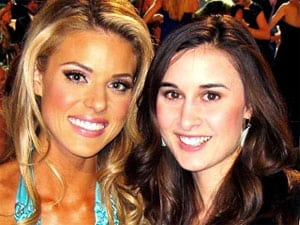 Said Christina Prejean to ABC News: "Considering what she was going through, the circumstances of being put
on the spot, given such a short amount of time to think and respond …
she said what she felt in her heart would be the best answer. She and I have talked about this subject; we both respect each other's
views. I support civil unions that would give same sex couples equal,
legal rights and privileges…I have never even given myself [the] title [of gay activist]. I was kind of surprised that
she mentioned it, but I think she wanted to get the point across that
our family is tolerant. A couple weeks back, I attended a public forum in Idaho about protecting the LGBT community against discrimination. That was the very first thing I attended, and I told her about it on
the night of the pageant, after she said she felt bad that people might
be offended by her response. … But that's obviously such a hot topic
that either way, someone was going to be offended."