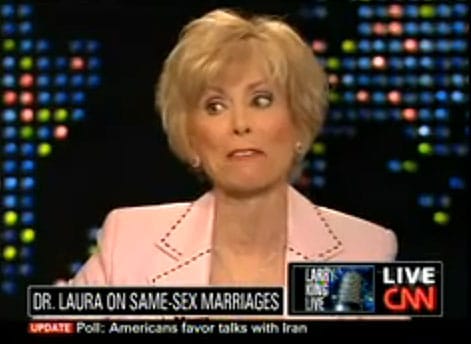 Dr. Laura Schlesinger appeared on Larry King Live on Wednesday night and was asked about the recent marriage equality victories around the nation. Schlesinger, who nearly ten years ago called homosexuality a "biological error" (among other things) and was the target of nationwide protests for it, said she still believes marriage is between a man and a woman.
Said Schlesinger: "I'm very big on human beings finding love, attachment and commitmentand being faithful to it, because there's more to benefit when there isreal true commitment and faithfulness to it. I still believe, as justevery president has, and all the people who ran for office, thatmarriage is a sacrament between a man and a woman. So not calling itmarriage works for me. But that two people would have that sort ofcommitment to me is very healthy and very positive thing in their livesand society as a whole….That's a beautiful thing and a healthy thing."
In a separate question on gay parenting (she has a new book In Praise of Stay-At-Home Moms) she was asked if she would praise a stay-at-home mom if that mom was in a committed relationship.
She answered: "Children need the contact of their parent, whether they are a lesbianor not. They need their mommy there. In that situation, the child isbereft of a dad. Dads are important, too."
You may also remember that Dr. Laura came under fire in May 2007 when a repulsive MySpace page linked to her son Deryk was unearthed.
Watch the Larry King clip, AFTER THE JUMP…