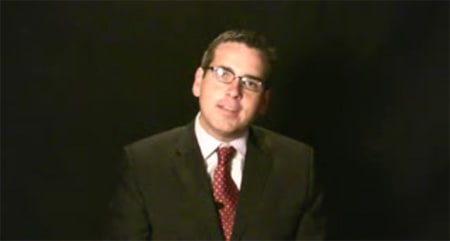 The Victory Fund reports that openly gay state senator Matt McCoy has received a death threat in the wake of Iowa's Supreme Court decision striking down the state's same-sex marriage ban:
"Iowa officials confirmed State Senator Matt McCoy, the legislature'ssole openly gay member, received a death threat via voice message athis private job.  The threat came amidst a protest at the state capitolinvolving thousands of people opposed to marriage equality for same-sexcouples."
McCoy released a video message shortly after the Court's decision saying that "Iowa will not go back" on marriage.
Security was heavy at the state capitol in Des Moines yesterday as approximately 300 marriage equality foes held a rally in the pouring rain. Same-sex marriage will begin in the state in just a few days and the bigots are desperate to do something to stop it.
"At the rain-drenched rally, Republican candidate for governorBob Vander Plaats demanded Culver immediately intervene rather thanwait as gay-marriage opponents work to get a constitutionalamendment on the ballot. The earliest voters could see the issuewould be in 2012, and that seems unlikely given opposition byDemocratic leaders in the Legislature.'I don't want to wait two years,' said Vander Plaats. 'I wantthis governor to issue an executive order that says there will be astay on all same-sex marriages until the people of Iowa have theright to vote. If I were governor today, I would issue thatexecutive order immediately.'Culver spokesman Phil Roeder dismissed Vander Plaats' statement. 'Governors in Iowa do not have the ability to prevent oroverturn a decision of the Supreme Court through an executiveorder,' said Roeder. 'It's disappointing that some people,especially politicians, would try to mislead the public intothinking that governors do have such power.'" 
Culver has said he is respecting the Supreme Court's decision. Senator majority leader Mike Gronstal has said he has "no intention" of taking up legislation against the decision.
Another video of remarks (the first one is here) by McCoy, shortly after the decision, AFTER THE JUMP…