In a Focus on the Family farewell speech, James Dobson told his followers that the religious right is losing the culture wars.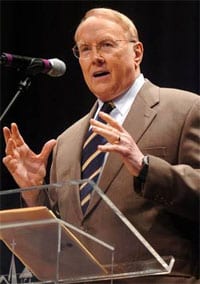 "The battles that we fought in the 80's now, we were victorious in many of those conflicts with the culture…trying to defend the unborn child, trying to preserve the dignity of the family an the definition of marriage. We fought all those battles, but really it was a holding action."
He urged them not to give up:
"We are awash in evil and the battle is still to be waged. We are rightnow in the most discouraging period of that long conflict. Humanlyspeaking, we can say we have lost all those battles…Humanly speaking, we can say that we have lost all those battles, butGod is in control and we are not going to give up now, right? The world has turned colder for the family in recent years and there is such hostility to anyone who holds to a faith and we're going to take the heat. But I have been assured by the board and by many of you that we're not going to cow, we're not going to be discouraged. We're going to continue to express the love for the Scripture and the principles that we find there and if we are made fools for Christ, that's okay too because our purpose is to serve him and that he be pleased." 
Dobson announced he was stepping down as chairman of the organization in February.
Listen, AFTER THE JUMP…