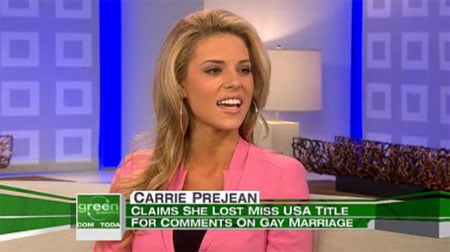 This is the last Miss USA post I'll be doing unless something drastic happens to add something to the conversation, because I think it's run its course and there's no real reason to elevate this person. Matt Lauer talked to Perez and Prejean at greater length this morning on the Today show.
Lauer wonders why Perez didn't ask her about world peace, puppies, or kittens. Carrie Prejean says she wouldn't have answered the question any differently were she given a second chance, because "it's not about being politically correct, for me, it's about being Biblically correct."
Prejean also made the rounds to MSNBC in the 9am hour where she told Tamron Hall: "I can only say to him that I will be praying for [Perez Hilton]. I feel sorry for him, I really do. I think he's angry, I think he's hurt. Everybody is entitled to theirown opinion. He asked me specifically what my opinion was on thatsubject and I gave him an honest answer."
Watch both clips, AFTER THE JUMP…