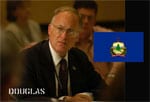 The Vermont Senate and House voted today to override a veto by Governor Jim Douglas of the state's same-sex marriage bill.
The Senate voted 23-5, overriding the veto by a wide margin, while the House squeaked through with a 2/3 majority with a 100-49 vote.
Vermont is now the fourth state to legalize same-sex marriage (with Iowa, Massachusetts, and Connecticut) and the first to do it by a vote of the legislature.
The vote comes nine years after the state legalized civil unions and was the first time Douglas had been overridden in his tenure.
More details and reactions as they come in…