The Burlington Free Press reports: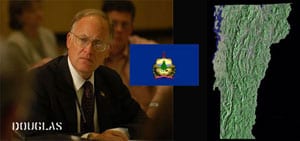 "After nearly four hours of passionate debate from supporters and
opponents of the measure, the House approved the bill by a vote of
95-52 shortly after 9 p.m. The legislation, S.115, gives same-sex
couples the right to marry in Vermont. The bill will be brought
up again Friday for final approval, then return to the Senate, where
changes to language must be approved. Should the Senate OK those
changes, the bill will head to Douglas' desk and a promised veto. 
That
veto — which Douglas declared last week he would deliver — would not
kill the legislation. Instead members of the House and Senate will try
to override the veto by securing a two-thirds majority of support in
each chamber. The Senate would need 20 votes; the House would need 100
with all members in attendance."
There is no doubt members will switch their votes if Douglas proceeds with his veto. The big question is how many Democrats who voted against the measure will switch to vote with their party to override and how many Republicans who may have voted to pass the measure will switch to not override their governor.
Between now and the middle to late part of next week when the vote to override will likely come, contact (especially those in Vermont) the legislators. You can send a blanket message HERE.
Debate archive at BFP….