The Vermont House is set to vote today on the same-sex marriage bill  which Governor Jim Douglas has threatened to veto should it arrive at his desk. Though it looks likely to pass, the real question is whether or not it will have enough votes to override the Douglas veto.
Semantics take center stage in the debate…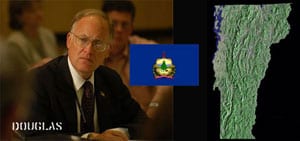 The Burlington Free Press reports: "Predicting the outcome is complicated by the fact that some Democrats
who plan to vote against the bill say they would change course and
challenge the governor's veto, meaning that even if today's vote falls
short of 100 in support, an override might be possible…[Debbie] Evans, a Democrat from Essex, is a member of her Catholic parish
council. She is also a justice of the peace who has performed more than
100 civil union ceremonies for same-sex couples. 'I have done a lot of soul-searching,' she said. 'It's very hard.' When her name is called today, though, she will vote against same-sex
marriage. 'I still look at the definition of marriage as traditional.' If there is a vote to override a gubernatorial veto, however, Evans
said she will vote for it. The Democratic caucus is firm about sticking
together to challenge the governor, she said. Evans said she
believes Gov. Jim Douglas interfered with the legislative process by
declaring last week that he would veto the bill before it went through
the Legislature. 'No one was happy with that,' she said."
Evans is simply one vote. The Free Press talks with four additional lawmakers who all come at it from very different perspectives. So, we shall see.