After last week's victory in Iowa, the focus on same-sex marriage shifts back to Vermont early this week. A veto from Governor Jim Douglas of the marriage equality bill which passed the House last week could come as early as this evening, WPTZ reports: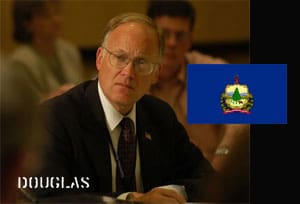 "Gov. Jim Douglas could veto Vermont's civil marriage bill as early as Monday night. State
lawmakers said they will try to override the governor, but no one knows
if House leaders have the votes needed to do so, NewsChannel 5's Ashe
Reardon reported. On Friday, the Vermont House gave final
approval to a bill that would legalize same-sex marriage starting in
September. The Senate will hold a vote Tuesday morning, followed by the
House."
"Intense lobbying" is underway…
Canvassers and phone bank volunteers are still needed in Vermont. Check Vermont Freedom to Marry for information.
In related news, the Burlington Free Press published a beautiful profile over the weekend on Bobbi Whitacre and Sandi Cote, two women and former military officers who have been together for 42 years and hope to be able to marry.