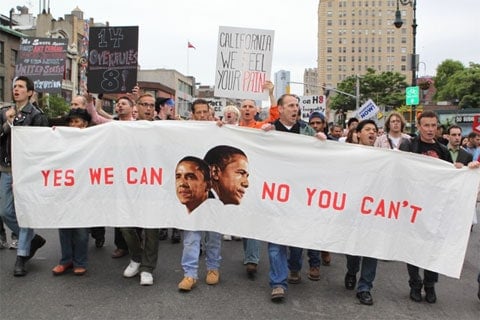 Above, a photo I took at tonight's NYC march and demonstration for marriage equality in reaction to the Prop 8 decision. I would guess there were approximately 2,000 there. The banner was designed by rainbow flag creator Gilbert Baker. View our slideshow of photos from around the nation HERE.
I've updated this post quite a bit since earlier today…see below.
Gays and lesbians in California are still second-class citizens. The California Supreme Court has upheld Proposition 8 by a vote of 6-1. However, the 18,000 same-sex marriages performed before Proposition 8 took effect will remain valid.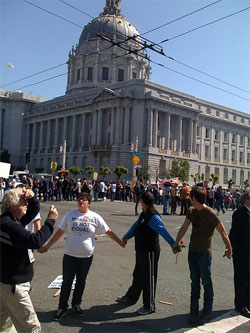 Moments after the decision was handed down, hundreds of people outside the California Supreme Court began chanting "Shame on you, shame on you."
OPINION (PDF)
The Court heard arguments in early March. At that time, things didn't look good for equality in California.
The L.A. Times reports: "The decision virtually ensures another fight at the ballot box overmarriage rights for gays. Gay rights activists say they may ask votersto repeal the marriage ban as early as next year, and opponents havepledged to fight any such effort. Proposition 8 passed with 52% of thevote…In an opinion written by Chief Justice Ronald M.George, the state high court ruled today that the November initiativewas not an illegal constitutional revision, as gay rights lawyerscontended, nor unconstitutional because it took away an inalienableright, as Atty. Gen. Jerry Brown argued. Only Justice Carlos R. Moreno, the court's sole Democrat, wantedProposition 8 struck down as an illegal constitutional revision. Justice Joyce L. Kennard, who voted with the majority last year to givegays marriage rights, joined George and the court's four other justicesin voting to uphold Proposition 8."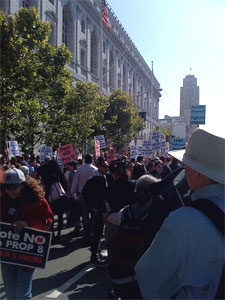 Challenge to Prop 8 FILED IN FEDERAL COURT: "Two prominent attorneyswho argued on opposite sides of Bush vs. Gore, the legal battle overthe 2000 presidential election, announced Tuesday that they willchallenge Proposition 8 in federal court and seek to restore gaymarriage until the case is decided. Former U.S. Solicitor General Theodore B.Olson and David Boies, who represented then-Vice President Al Gore inthe contested election, have joined forces to tackle the same-sexmarriage issue, which has deeply divided Californians and left 18,000gay couples married last year in legal isolation."

Fred Karger: 'Californians Against Hate' will be watchdog…

Mormon church expresses support for California Supreme Court Decision: "The Church of Jesus Christ of Latter-day Saints recognizes the deeplyheld feelings on both sides, but strongly affirms its belief thatmarriage should be between a man and a woman. The bedrock institution ofmarriage between a man and a woman has profound implications for oursociety. These implicationsrange from what our children are taught in schools to individual andcollective freedom of religious expression and practice….Accordingly, the Church stands firmly for what it believes is right forthe health and well-being of society as a whole."

Reactions from Cynthia Nixon and Melissa Etheridge.

DailyKos analysis: Supremes cut Prop 8 to the bone. Was decision a loss for the other side?

White House reacts, or doesn't…

Protestors block traffic in SF…175 arrested. Plus clergy.

ACLU's Matt Coles responds to ruling…

Human Rights Campaign legal analysis.

Supreme Court refuses to address legality of same-sex marriages performed out-of-state in footnote to ruling: " We have no occasion in this case to determine whether same-sex couples who were lawfully married in another jurisdiction prior to the adoption of Proposition 8, but whose marriages were not formally recognized in California prior to that date, are entitled to have their marriages recognized in California at this time. None of the petitioners before us in these cases falls within this category, and in the absence of briefing by a party or parties whose rights would be affected by such a determination, we conclude it would be inappropriate to address that issue in these proceedings."

NCLR's Kate Kendell: "Today, the California Supreme Court diminished its legacy as a championof equality. By upholding Prop 8, an initiative that stripped the rightto marry from same-sex couples in California, the Court's decision hasundermined the central principle that all people are entitled to equalrights and has jeopardized every minority group in California. Nominority group should have to defend its right to equality at theballot, and the Court should not have permitted such a travesty ofjustice to stand."
More updates, statements, and breaking news, AFTER THE JUMP…
L.A. Gay and Lesbian Center issues statement:
"Today, our Supreme Court sent a mixed and troubling message. While upholding the legal marriages of the 18,000 same-sex couples who married in California, the ruling establishes that all Californians are NOT entitled to equal protection of the law. This is a sad day for our state and a setback for the cause of freedom and fairness.But it's also important to keep this in perspective. Every noble struggle known to man or woman has been filled with losses—temporary defeats that people had to endure and overcome. We must pick ourselves up and move forward, knowing that justice ultimately will prevail and the right to marry will one day be ours forever.Fortunately, this loss comes amidst a veritable tide of progress in many other state supreme courts and legislatures—a tide that cannot be turned back, no matter today's decision. Not only are courts and legislatures recognizing that it's wrong to discriminate against any group of people by denying them the fundamental freedom to marry the one they love, but now even a majority of Americans agree. Most people in the nation now believe that same-sex couples should be treated equally under the law.That is enormous progress and we e cannot let one election, one court case, one defeat – or even many defeats – stop us. And we must not let such challenges limit our dreams. Those who came before us and who could never imagine our successes did not give up. We owe the same dedication to those who are yet to follow.Most importantly, we cannot afford to lose sight of the bigger picture. Ours is not a fight simply for the freedom to marry. Ours is a fight for full equality; full equality and nothing less."
Here are some of the photos we've received of action from Towleroad readers related to the California Supreme Court Proposition 8 decision. If you have relevant photos of reactions to the ruling, protests, or anything related, please share them with Towleroad readers by emailing from your phone or computer to post@towleroad.com. CITY, STATE in the subject line, CAPTION and CREDIT in email body. Don't forget to attach the photo.