A second topless photo of Miss California Carrie Prejean (similar to the first) hit the web the day after TMZ revealed that Prejean had lied to pageant organizers about the existence of any other shots: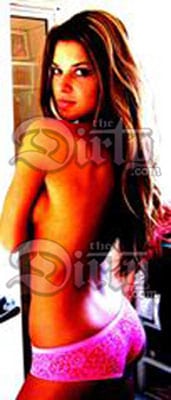 "TMZ has obtained an email Carrie sent to Keith Lewis, Co-Executive Director of Miss California USA. The email, sent yesterday, refers to the topless photo of her circulating on the Internet. The email reads: 'This was when I was 17 years old. I was a minor. It was when I was first getting into the modeling world, being naive, and young. I shouldnt (sic) have taken the photo of me in my underwear. There are no other photos of me. This was the only one I took.'"
TMZ claims that they have seen four photos of the Miss USA runner-up, who has been waging a campaign against same-sex marriage since her answer to a question about it at the Miss USA pageant catapulted her into the spotlight.
TMZ reports: "We told Keith Lewis about the 4 photos. His reaction: 'I'm absolutely
stunned. This completely changes things for us. Yesterday we thought
she had explained things accurately. We need to revisit this issue with
her.'"
Today, TMZ reports on the possible origins of Prejean's views on gays, citing papers in her parents' divorce, which they say went on for years:
"In one of the docs, Carrie's dad describes a confrontation he had with her mom in 1996, in which he recounts an argument in a restaurant parking lot, where 'Ms. Prejean accused me, in front of our daughter, of homosexuality.'
The papers also quote a court-appointed doctor who said 'The mother questioned [within hearing of the girls] whether [her father] was a homosexual or had a homosexual roommate.'
Carrie's mom says the 'gay' allegations went both ways. In court papers dated May 16, 2000, a report from the court-appointed counselor says 'The mother also alleges the father told the girls their stepfather was gay, that all men with mustaches are gay.' The father's response: 'The father acknowledges talking with the girls about the stepfather's brother being gay, not the stepfather.' Also in the docs — a handwritten letter from Carrie's older sister, in which she recounts a weekend stay with her dad: 'One time my sister & I went in the hallway of my dad's apartment, & his roommate's
door was open all the way & we saw [the roommate] in bed with another man. I don't think it's right for my sister & I to have to live that way.'"