Twenty-eight Republicans and two Democrats signed on as co-sponsors of a bill meant to block the D.C. Council's recent recognition of same-sex marriages performed elsewhere. Actually, two bills were introduced.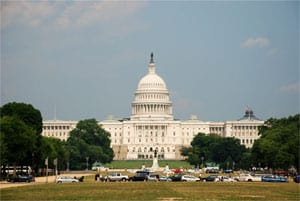 HRC:
"The first, H.R.2608 is a bill to "define marriage for all legal
purposes in the District of Columbia to consist of the union of one man
and one woman."  It was introduced by Rep. Jim Jordan of Ohio with 33
co-sponsors.
"The second, H.J.Res.54 is a resolution that formally "disapproves"
of the elected DC council and Mayor's decision to recognize marriages
of same-sex couples performed in other jurisdictions.  Introduced by
Rep. Paul Broun of Georgia, the resolution is the first step
if Congress tries to use its formal role in overruling the District's
local affairs.  However even if this bill does not progress, marriage
equality opponents may use the DC appropriations process to harm
families headed by same-sex couples."