While you were celebrating the advances in Maine and D.C., a marriage equality bill that passed the New Hampshire Senate last week and was sent back to the House for approval of changes was endorsed by the House Judiciary Committee and sent to the full House for a vote tomorrow: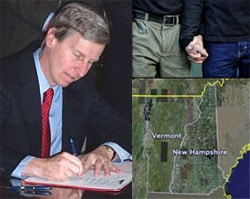 "Nashua Democratic State Rep. David Cote saidhe's optimistic the House on Wednesday will agree with these changesthat would let gay and lesbian couples marry after Jan. 1. The11-6 straw poll of the House Judiciary Committee was a change from twomonths ago, when the panel tied, 10-10 on the House version. 'Thismore clearly recognizes civil and religious marriages and generally isa real improvement,' said Cote who had opposed the House bill incommittee."
Meanwhile, in anticipation of the House's approval of the bill, Governor John Lynch's office has been inundated with more than 2,000 phone calls, 2,000 emails, and hundreds of pieces of mail. Lynch has said he believes marriage to be between a man and a woman and feels the state's civil unions are sufficient for equality. Said Lynch after the Senate vote:
"I still believe the fundamental issue is about providing the samerights and protections to same-sex couples as are available toheterosexual couples. This wasaccomplished through the passage of the civil unions law two years ago.To achieve further real progress, the federal government would need totake action to recognize New Hampshire civil unions."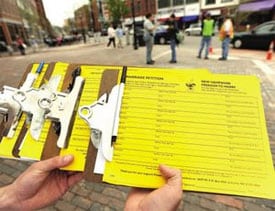 The New Hampshire Freedom to Marry Coalition has been urging voters to call Lynch to tell him to support the bill. (That info is here.)
"The heat is on," reports Seacoast Online: "Mo Baxley, executive director of New HampshireFreedom to Marry Coalition, said volunteers with petitions fanned outSaturday and Sunday to Concord, Portsmouth, Keene, Plymouth andManchester. In Portsmouth, volunteers were in Market Square and willremain there during the lunch hour this week. On Sunday, they were infront of South Church, the Unitarian church, gathering signatures fromcongregants. The petition urges 'the state ofNew Hampshire to allow same-sex couples to share fully in the rights,responsibilities and commitment of civil marriage.' Baxleysaid the group gathered about 1,500 signatures over the weekend, whichwill be sent to Lynch after the House vote Wednesday, and Lynch willreceive additional petitions "in waves" as they come in."
NHFTM has also produced a new TV spot. You can watch it, AFTER THE JUMP…