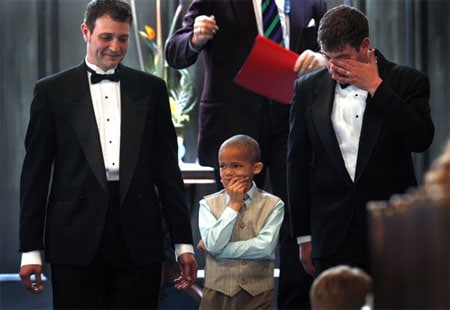 Despite the fact that the marriages won't be recognized legally in their home states, gay and lesbian couples from neighboring states are heading en masse to Iowa to be married.
Seventeen same-sex couples from St. Louis, Missouri boarded a bus on Friday to wed in Iowa: "One by one, in a 90-minute-long ceremony at the Unitarian UniversalistSociety of Iowa City, each couple was joined together in a marriageofficially recognized by the state of Iowa. 'It feels great,'said 58-year-old Mike Fienup, who married his partner of 15 years,Gerry Humphreys. 'We're citizens. We pay taxes. Why can't we be treatedequal?'"
Their journey is chronicled in a beautiful slideshow at The Gazette. Above, Ryan Barker and his husband Lawrence Miskel, and their son William Miskel Barker.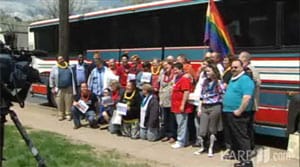 Five same-sex couples from Minneapolis, Minnesota traveled to Davenport, Iowa over the weekend to get married: "The couples are all congregants of All God's Children Church in South Minneapolis. Once Hedgepeth and his partner, Kenn Anderson cross the borderback into Minnesota Tuesday, however, their marriage will no longer berecognized. 'I say wherever you are married, you are married and the law will just have to catch up with reality,' Hedgepeth said"
Watch video of the Minneapolis couples and their journey to Iowa, AFTER THE JUMP…