The California Supreme Court has upheld Proposition 8 but ruled that the 18,000+ same-sex marriages already valid in the state will remain so.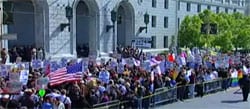 Follow our UPDATES as the day develops.
View related video news in the widget in the right hand column of our homepage.
PROTEST info: Day of Decision – 96 cities.
New York: Rally starting at Sheridan Square.
Seattle: Westlake Center.
BE A CITIZEN JOURNALIST – SHARE YOUR PHOTOS WITH US:
SLIDESHOW here. If you have relevant photos of reactions to the ruling, protests, or anything related, please share them with Towleroad readers by emailing from your phone or computer to post@towleroad.com. CITY, STATE in the subject line, CAPTION and CREDIT in email body. Don't forget to attach the photo.