I read a couple items over at Pam's House Blend and Law Dork, 2.0 suggesting that the New Hampshire marriage equality bill might have become law overnight, because Governor Lynch must sign or veto it within five days.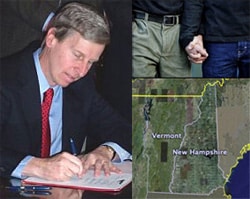 According to Law Dork, the Union Leader reported that the bill arrived on Lynch's desk on May 6. His calculations suggest that in that case the bill would have become law overnight.
However, the Nashua Telegraph reported on Sunday: "Both sides watching what Gov. John Lynch will do
with the same-sex marriage bill have at least a few more days to keep
the heat on the corner office. The Senate-crafted compromise (HB
436) only got to Secretary of State Bill Gardner late Friday afternoon,
while the second bill (HB 310) that fixes mistakes made in the first
wasn't there yet."
Here's the bill's page on the legislature site.
In any case, we'll know soon.
UPDATE: (thanks to our reader Tanner) "the bills may be a few days away before they get
to Lynch, who has not said whether he would veto, sign or allow them to
become law without his signature. Legislative supporters in the House and Senate said they want to get both bills to Lynch at the same time. The
original gay marriage bill (HB 436) needs the signatures of House
Speaker Terie Norelli, D-Portsmouth, and Senate President Sylvia
Larsen, D-Concord, before it could head to Lynch's desk. The
bill that fixes the first (HB 310) still needs clearance from
legislators who have to confirm it's been technically reviewed before
it can then go to Norelli and then on to Larsen."
Republicans say they have a meeting with Lynch this morning to protest the bill.