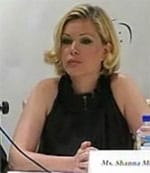 Co-executive director of the Miss California USA
pageant and former Miss USA Shanna Moakler quit today, releasing the
following statement:
 "I cannot with a clear conscience move forward supporting and promoting
the Miss Universe Organization when I no longer believe in it or the
contracts I signed committing myself as a youth. I want to be a role model for young
women with high hopes of pageantry, but now feel it more important to
be a role model for my children."
Moakler slammed Miss California Carrie Prejean at a news conference Monday, the day before Miss Universe franchise owner Donald Trump decided she was to keep her crown.