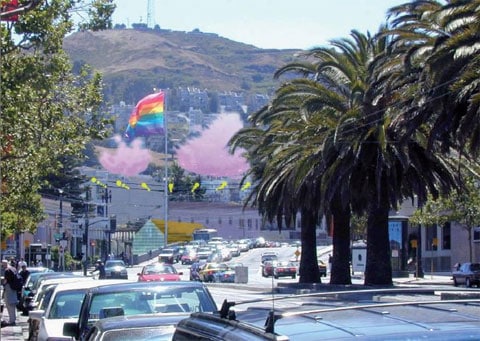 Like most public art projects, everyone seems to have an opinion about the one being envisioned for the entrance to San Francisco's Castro District, as a memorial to gay rights leader Harvey Milk. The art piece, first envisioned in 2000 but shelved for lack of funds, would be created with poles emitting steam, which would then be lit with pink lights.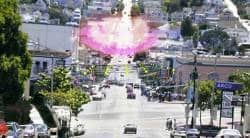 The SF Chronicle reports: "Now it's back – revived by Supervisor Bevan Dufty and the San
Francisco Arts Commission to add some flair to the temporary public
plaza that opened last month at the intersection…Some do find the idea delightful; others say it conjures a toxic cloud
that's destined to cause a car wreck. Then there are practical
questions: Will the wind send the cloud cruising down Castro Street?…While many in the audience of a dozen found the idea intriguing, they had some concerns. 'I'm conflicted whether I like it or not,' said Tito Vandermeyden, artist and owner of Studio 94114. 'The place is very windy, and there will be a lot of rubbernecking. I'd like to see local Castro artists promoted, too.' Terry Asten Bennett, owner of Cliff's Variety Store and president of
the Castro Merchants Association, is worried about accidents when
drivers crest Market Street and find a big 'pink UFO' in the sky. 'We've had a lot of customers say, 'What in the hell are they thinking?' ' she said. But public art often does provoke, just as Milk did, Dufty said. 'I think this is a great opportunity to do something intriguing,' Dufty said."