Yesterday, gay rights activist Frank Kameny received an official apology from White House Office of Personnel Management head, openly gay John Berry, for firing Kameny in 1957 because he was gay, the Washington Blade reports.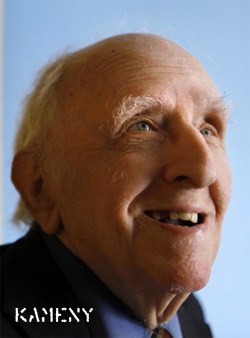 Said the letter, in part: "In what we know today was a shameful action, the United States Civil
Service Commission in 1957 upheld your dismissal from your job solely
on the basis of your sexual orientation," the letter states. "… And by
virtue of the authority vested in me as Director of the Office Of
Personnel Management, it is my duty and great pleasure to inform you
that I am adding my support … for the repudiation of the reasoning of
the 1957 finding by the United States Civil Service Commission to
dismiss you from your job solely on the basis of your sexual
orientation. Please accept our apology for the consequences of the
previous policy of the United States government."
Read the full letter at the Blade.
Said Kameny: "Apology accepted."
In February, Kameny's home in Washington D.C. was declared an historic landmark:
"…not because of its gabled roof or side-hall plan, but because, for 13
fiery years, it was the epicenter of the gay rights movement in the
nation's capital."
In 2007, Kameny donated more than 70,000 papers related to gay rights to the Library of Congress, inspiring a hate campaign by wingnuts. A few of his artifacts are now in the Smithsonian as well:
"[Protest signs], plus three campaign buttons, are now in the same case
as Joe Louis's boxing gloves, near the glass closet that holds Jackie
Kennedy's inaugural gown and in the same shrinelike exhibit…that also
has Thomas Jefferson's writing desk and the ruby-red slippers that
Dorothy wore on her way to meet the Wizard."