A day after the D.C. Board of Elections and Ethics blocked a referendum that would have put the D.C. Council's recent decision to recognize same-sex marriages performed elsewhere in front of voters, a lawsuit has been filed asking Judge Judith E. Retchin to overturn the ruling: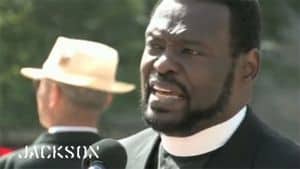 "The plaintiffs asked for an expedited hearing. If the court or Congress
does not intervene, recognition of same-sex marriages performed
elsewhere will become law early next month, at the end of the required
congressional review period. 'We are not going to sit by and allow an unelected board of
bureaucrats to deny voters their rightful say on this issue and, by
their action, allow the institution of marriage and the entire
structure of our society to be radically redefined,' said Bishop Harry
Jackson, senior pastor of Hope Christian Church in Beltsville and one
of seven District residents who are plaintiffs in the suit. 'We will continue to fight for the people of the District of Columbia who want their voice to be heard in this important issue.'"
Jackson and six other plaintiffs are being represented by the anti-gay Alliance Defense Fund.