A new poll from Quinnipiac University shows New Yorker supporting marriage equality by 51 percent. This data is similar to polling data released by Siena Research Institute in April which showed 53 percent approval.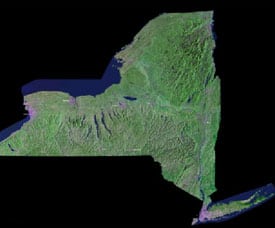 Quinnipiac reports:
New York State voters support 51 – 41 percent, with 8 percent undecided, a law allowing same-sex couples to marry, according to a Quinnipiac University poll released today.
This is the first poll by the independent Quinnipiac University showing support for same-sex marriage in New York State, where voters split 46 – 46 percent on this issue in a May 14 survey and opposed same-sex marriage 55 – 37 percent in an April 15, 2004, poll.
In this latest survey, women support same-sex marriage 58 – 35 percent, while men oppose it by a narrow 48 – 44 percent margin. Same-sex marriage wins 65 – 28 percent from Democrats and 52 – 42 percent from independent voters, while Republicans oppose it 66 – 27 percent.
The proposal wins 52 – 42 percent support from white voters and 55 – 39 percent from Hispanics. Black voters split with 43 percent in favor and 42 percent opposed.
Voters who attend religious services at least once a week are opposed 63 – 31 percent, while those who attend less frequently support same-sex marriages 61 – 31 percent. Support also rises with income and education level.
New York State voters support same-sex civil unions 68 – 25 percent, with support from all groups, including 55 – 37 percent among Republicans. Overall support was 65 – 27 percent May 14.
Governor David Paterson has promised a vote this session on marriage equality. Yesterday, he convened an emergency session of the embattled State Senate and said  he would continue to do so until all the issues voters wanted covered were discharged. He mentioned that a "civil rights" measure was on the agenda.