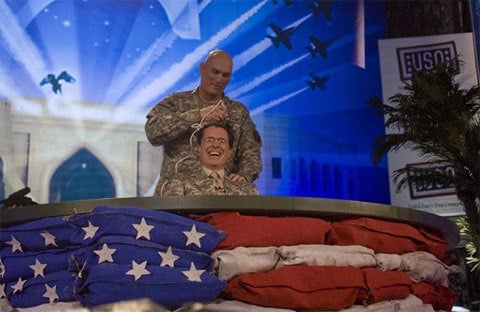 Stephen Colbert flew to Iraq late last week on 'Operation Iraqi Stephen: Going Commando', the New York Times reports: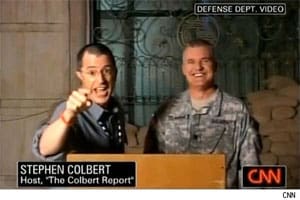 "Mr. Colbert's entire career is based on being gleefully insincere, a man who literally wraps himself in the flag to the screaming of majestic computer-generated eagles.On the other hand he is unquestionably a real supporter of the troops, raising money through donorschoose.org for school supplies for children of soldiers, through his WristStrong bracelets for the Yellow Ribbon Fund, which helps injured veterans, and by donating to the U.S.O. proceeds from iTunes downloads of this week's episodes.So it was easy to wonder if, given the setting, he would be a little less mock Bill O'Reilly and a bit more risk-free Rich Little.Any doubt was dispersed the minute Mr. Colbert ran out onstage wearing a business suit made of Army camouflage and, shortly afterward, declared himself the only person man enough finally to declare victory in Iraq."
In addition to get his head shaved (the look flatters him), Colbert also took the time to participate in a video from Principal David St. Aubin of Goodrich High School in Michigan to his students. St. Aubin was pulled into service last year through the Army reserves.
Watch it, AFTER THE JUMP…