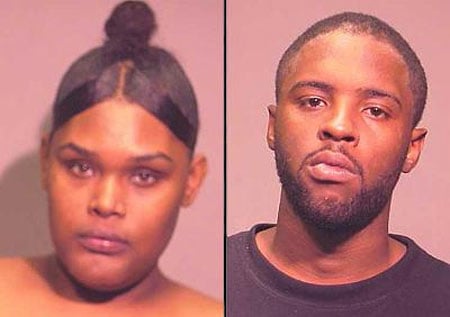 A Chicago gay men's beauty pageant ended in blood after a judge, unhappy with the results, beat another judge with the trophy while one of the contestants assaulted him with a sharp object, the Chicago Tribune reports. The victim suffered a broken jaw and required stitches on his hand:
"Leroy Tinch (left), 28, of the 2200 block of Emerson Street in Evanston and Anthony Johnson (right), 23, of the 8200 block of Keating Avenue in Skokie were both charged with aggravated battery with great bodily harm, a class one felony, said Andrew Conklin, a spokesman for the Cook County state's attorney's office.
The men were ordered held on $75,000 bond by Circuit Court Judge Maria Kuriakos Ciesil. Prosecutors said the men were at the pageant at 3350 W. Jackson Blvd., where Johnson was a contestant and Tinch was a judge.
Johnson allegedly became angry with another judge after he voted for different contestant, grabbed the trophy and hit the judge in the head with it. Tinch then jumped in and began hitting the judge with a sharp object (a knife, according to NBC), cutting him over his left eye, Conklin said."