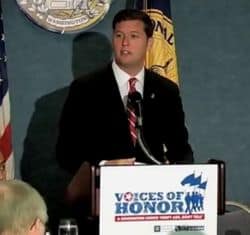 The Human Rights Campaign (HRC) and Servicemembers United announced today a national "Voices of Honor" Tour to repeal Don't Ask, Don't Tell. Rep. Patrick Murphy (D-PA), a former West Point professor and Iraq War vet, is the lead sponsor of legislation to repeal the unpopular policy that bars LGBT people from serving openly in the United States armed services.
Murphy said, in part:
"Our president, President Barack Obama, has stated that If Congress can get a bill to his desk repealing Don't Ask, Don't Tell, he will sign it into law. It is now our job, and my job specifically, to quarterback this through the Congress of the United States to do just that. I can not tell you today how long it's gonna take. All I can tell ya is that paratroopers don't quit, and paratroopers get the job done. To remove 

honorable, talented and committed Americans from serving in our military is contrary to the values that our military holds dear."
Video of Murphy's speech after the jump.
"Voices of Honor" will make stops in Philadelphia; Trenton; Virginia Beach; Phoenix; Kansas City, MO; Orlando and Tampa and will feature 
former Marine Staff Sgt. Eric Alva,
the first American soldier injured in Iraq, among
others
. CNN points out that some of those involved were chosen
because they're straight
, as outreach to other straight soldiers.
Much more video from today's event
here
.