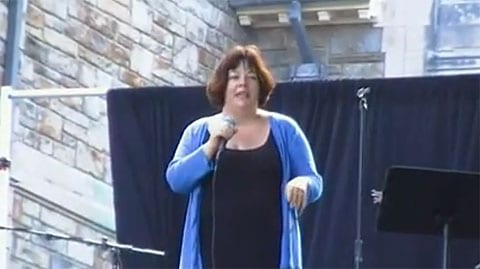 A National Organization for Marriage (NOM) fundraising event in Warwick, Rhode Island was attended by protesters on Sunday: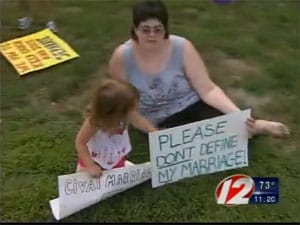 "The event was open to the public, even to the 20 or 30 protesters who flashed signs at the front gate as the Thomsens arrived with their four children. 'It's about being seen,' said Susan Heroux, of Coventry, who stood along the road outside the Aldrich Mansion holding a sign that read, 'Love does not know gender.' Heroux's wife of two years, Stacey, stood nearby. Their 12-year-old daughter did not attend the protest.The Herouxs married in Massachusetts, as Rhode Island now stands as the only New England state that doesn't allow same-sex marriage. 'A lot of the people here probably don't know any gay people. They need to see us as human beings,' said Heroux, an organizer for the newly formed group, Queer Action of Rhode Island. 'Religious institutions should be able to do what they want to do. But we believe laws should cover us all equally. We want to protect our families.'Heroux and a handful of other protesters later passed through the gates, joining the NOM gathering, which also featured pony rides, a Christian rock band, and an appearance by the national organization's president, Maggie Gallagher."
Last week, Canada's largest food service, the coffee and doughnut chain Tim Hortons, pulled out of the event after it was brought to light that they were a sponsor.
Watch MAggie Gallagher's speech, and a report on the protest, AFTER THE JUMP…
Maggie Gallagher:
WPRI report: