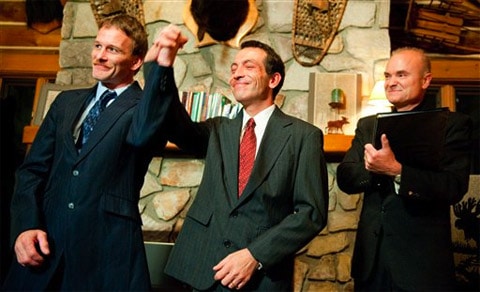 Bill Slimback and Bob Sullivan of Duxbury, Vermont, were the first gay couple in the state to marry under Vermont's new law, which took effect at midnight last night. The couple were married at 12:01 am: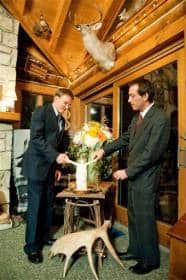 "With Vermont's new law allowing same-sex marriage only a minute old,
they tied the knot in a midnight ceremony at a rustic Vermont lodge,
becoming one of the first couples to legally wed under a law that took
effect at midnight Tuesday. Dressed in suits, saying their vows
under a large wall-mounted moose head, the two Whitehall, N.Y., men
promised their love, exchanged rings and held hands during a modest
17-minute ceremony. Moose Meadow Lodge co-owner Greg Trulson, who's
also a Justice of the Peace, presided. 'It feels wonderful,' said
Slimback, 38, an out-of-work Teamster who is taking Sullivan's last
name as his own. 'It's a day I've been long waiting for, and a day I
truly honestly thought would never come.' Slimback said he and
Sullivan, 41, have long wanted to cement their relationship with a
wedding, but since they couldn't legally marry in New York they chose
to wed even before Vermont's gay marriage era officially dawned."
Vermont officials said they expected less pomp and circumstance surrounding the new law because civil unions had been legal in the state for so long.
And last night at the First Congregational Church in Burlington, folks took a "pre-emptive stand" against protesters from the Westboro Baptist Church who planned to crash Vermont's wedding day with their hateful picketing:
"'We gather to affirm that the ties that bind us are stronger than those that would rip us apart,' the Rev. Robert Lee, the church's senior minister, told the crowd, which filled the pews and balcony.
Lee and Rabbi Joshua Chasan of Burlington's Ohavi Zedek Synagogue encouraged their followers to ignore the op­ponents of gay marriage who intend to protest at six loca­tions in Vermont today. 'We ask everyone to stay away from the sites of the picketing,' Chasan said."