Earlier this week, New York City mayor Michael Bloomberg told Gay City News that the chances of marriage equality happening in New York were "zero, zero".
Said Bloomberg: "I
don't know how to get it to come up [ on the Senate floor]. If you want my honest opinion, [the Senate leadership is unlikely to move a gay marriage
bill] when I don't see these guys willing to stand up for less
controversial issues."
Now, three prominent New York politicians and a gay rights leader have stated just the opposite — that marriage equality may very well be up for a vote this fall.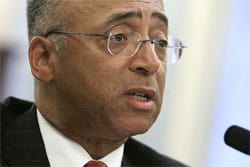 Bloomberg's Democratic opponent, comptroller William Thompson, responded: "Once again Mike Bloomberg is talking out of both sides of his mouth. The fact of the matter is Mike will stand up in press conferences
and talk the talk but at the end of the day he never walks the walk.
Mike Bloomberg has consistently supported the Republican Party and its
anti-gay marriage agenda."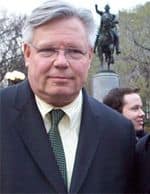 State Senator Thomas Duane said: "As far as I know, the mayor hasn't been in on any discussions
with Senate Democrats or with Senate Republicans on strategy for
getting marriage passed. There have been people involved with his administration that I've
talked with and others may have spoken to, but I don't know of the
mayor personally speaking to anyone. I remain confident it will get done this fall…His offer to come testify is the easiest political commitment to
make, but the time for hearings is past. I held hearings
on the bill years ago. I can't say he's expended much political capital
on this."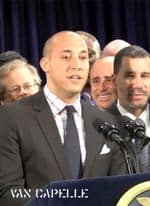 Empire State Pride Agenda executive director Alan van Capelle was equally dismissive of Bloomberg's remarks: "We don't agree with Mayor Bloomberg's statement that marriage
equality does not have a chance of coming up for a vote this fall. The mayor is focused on New York City and his
race for re-election, and not on the details involved in moving the
marriage bill forward in Albany. We know from the work that we do daily
on this issue that marriage equality is still very much in play in
2009."
And NYC Council Speaker Christine Quinn chimed in as well: "I disagree with the mayor. I do believe that there is a real potential and a very real potential in the near future…If I knew exactly when [the measure would move] I would probably know who was going to win the trifecta at Belmont. I don't see any reason to think that there is not potential to have this vote."
Bloomberg also claimed in the interview that he could sway key GOP Senators (specifically Brooklyn's Martin Golden and Queens' Frank Padavan) to make a 'yes' vote when marriage equality comes to the floor, however, Gay City News reports that Padavan's office says that the Senator and the mayor have not had any discussions about the issue.
The Empire State Pride Agenda recently launched a new 'Call Your Senator' campaign. Hope lives.
Duane, Thompson, Come Out Swinging on Bloomberg Comments [gay city news]