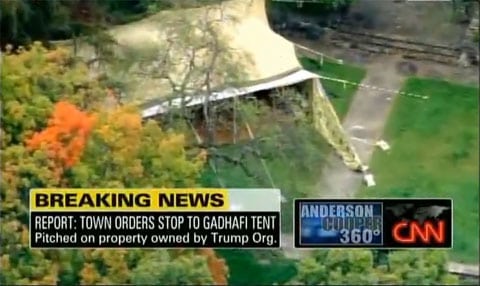 Donald Trump is under fire and the target of protests by neighbors for allowing Libyan dictator Moammar Gadhafi to pitch an air-conditioned tent on his Westchester County, NY property.
Gadhafi was turned down from several other locations for obvious reasons.
Watch AC360's report, AFTER THE JUMP…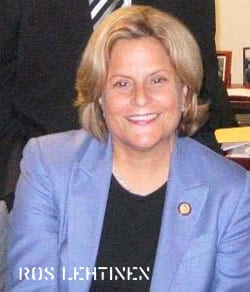 In related news, on Tuesday, Rep. Ileana Ros-Lehtinen, the ranking Republican on the House Foreign Affairs Committee, slammed remarks made by Ali Abdessalam Treki, who is a former foreign minister of Libya. Treki is the new president of the United Nations General Assembly.
According to FOX News, "Treki said in a news conference last week that the issue of homosexuality was 'very sensitive, very touchy,' but then added that 'as a Muslim, I myself am not in favor of that. … It is not accepted in the majority of the world.'"
Said Ros-Lehtinen: "The anti-gay bigotry spewed by this Qaddafi (Gadhafi) shill demonstrates once again that the UN has been hijacked by advocates of hate and intolerance."
FOX adds: "Ros-Lehtinen warned that the United States was being asked to contribute aid to 'the U.N.'s anti-freedom agenda,' noting Treki's comments and similar comments made by Iran's leader, denying even the presence of gays. 'Congressmust demand better by enacting pending legislation that would leverageour contributions to the UN to produce sweeping, meaningful reform ofthat body,' Ros-Lehtinen said."
Ros-Lehtinen also recently pushed for LGBT Benefits for employees of the United Nations in a letter to UN Ambassador Susan Rice.
Watch AC360's report, AFTER THE JUMP…