D.C. Council member Phil Mendelson, chairman of the Public Safety and Judiciary Committee, told the Washington Post he can't recall a hearing with as many public witnesses as that set to begin on Monday which deals with the proposal for marriage equality: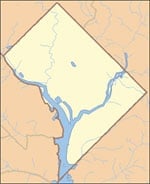 "So many people have signed up to testify that the hearing, scheduled to
begin Monday afternoon, it has been extended to a second day…In all, 269 people asked to testify before Thursday's deadline. The testimony from the witnesses, who get three minutes to present their case, could stretch past midnight on Monday. The witnesses represent numerous gay rights organizations, the
Democratic Party, various churches and religious organizations and some
public officials. But most of the witnesses are members of the public speaking out on their own accord."
Opponents of marriage equality have a request fro a referendum to block it before the Council, and plan a rally on Sunday at Freedom Plaza. Hearings on marriage equality begin at 3:30 pm on Monday.
DCist has some details on the witness list: "Looking at the witness lineup for this Monday's hearing, it should be
good early on. Bob Summersgill and Rick Rosendall, two local gay rights
activists, open up the proceedings. Bob King, the Ward 5 ANC
commissioner who has been part of the push for a referendum goes 7th,
followed by Kathryn Pearson-West, a resident who has strongly sided
with the pro-referendum forces in repeated postings to local online
newsletters. Our favorite, Bishop Harry Jackson, will speak 14th, while
influential gay Ward 8 activist Phil Pannell goes in the #45 slot. As
for organizational showing, the Human Rights Campaign is flexing some
muscle with six of the 100 testimonies."
Previously…
Paper: Congress Unlikely to Block D.C. Marriage Equality Bill [tr]