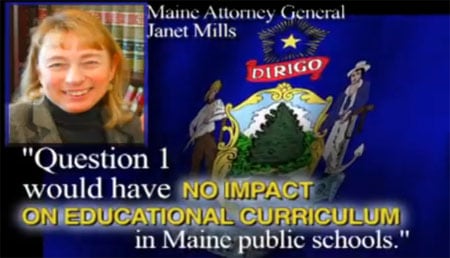 A new ad from the "No on 1" side in Maine uses Attorney General Janet Mills' statement regarding the marriage equality law's impact on school curricula to call out the lies from the anti-gay side.
Watch it, AFTER THE JUMP…
In related news, Stand for Marriage Maine's most recent ad was pulled from YouTube for infringing the copyright of NPR.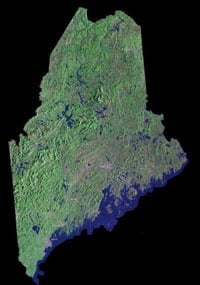 Several national news outlets are weighing in on the marriage situation in Maine.
The Boston Globe today published a big article about the battle in Maine from both sides, indicating that the vote is split:
"Both sides have invoked 'Maine values' in their play for votes,particularly among Catholics, who are believed to be crucial swingvotes. Supporters of same-sex marriage have appealed to what they callMainers' sense of fairness and equality, arguing that even if theydisagree with gay marriage, they should permit others to live the waythey want to live. Opponents have argued that gay marriage 'throws tothe trash heap Maine's decades-old interest in traditional marriage.'"
NPR agrees: it looks tight.
The L.A. Times is calling Maine's marriage battle "a low-budget but potent sequel" of Proposition 8. Let's hope it doesn't have the same conclusion:
"In some ways, Maine would seem an unlikely state to break traditionalbarriers to gay marriage. Over the last two decades, voters repeatedlyrejected measures that would have extended antidiscriminationprotection based on sexual orientation. But in 2005, voters approved a referendum granting the protections for the first time in housing, employment and other areas. 'Afew years ago, this wouldn't be close,' said Jon Hinck, a staterepresentative from Portland who supports the gay marriage law. 'Butpeople's attitudes are changing. Now we've got a real chance.'"
Watch the new ad, AFTER THE JUMP…
And Protect Maine Equality HERE.