Kansas City Chiefsrunning back Larry Johnson is under fire for a string of homophobic slurs directed at members of the media and a Twitter user.
Outsports reports: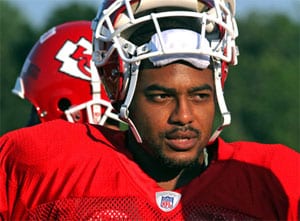 "When reporters entered the Chiefs locker room on Monday, Johnson said he was not answering any questions until Thursday. He then uttered this under his breath, according to radio station KCSP and Kent Babb of the Kansas City Star: 'Get your faggot asses out of here.'
Last night, when Johnson got into a Twitter spat with a fan, he called the fan a 'fag,' according to Yahoo Sports, which monitored the excha'nge: think bout a clever diss then that wit ur fag pic. Christopher street boy. Is what us east coast cats call u.'"
GLAAD President Jarrett Barrios called on the NFL to punish Johnson: ""All too often this is the word that is used to ridicule and harass young gay and transgender athletes on local sports fields across America.
Professional athletes who use this word need to be held accountable for feeding a climate of intolerance toward our community. NFL officials need to take action and condemn this and future uses of this anti-gay epithet."