NYT: Six tests for equality and fairness. "Three jurisdictions — New York, New Jersey and the District of Columbia
— seem tantalizingly close to securing legislative approval for
measures ending the hurtful and unjustifiable exclusion of same-sex
couples from civil marriage. But in Maine, Washington State and
Kalamazoo, Mich., voters are being asked on Tuesday to strip away vital
rights and protections."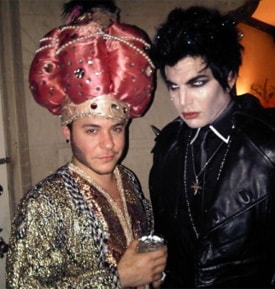 Adam Lambert and Ferras glam it up on Halloween in West Hollywood.

A-Rod's art collection? "He was so vain. He had not one, but two painted portraits of himself as a centaur. You know, the half man, half horse figure? It was ridiculous."

West Hollywood woos gay tourists.

LGBT liaison Dani Lee Harris wears uniform in Atlanta Pride parade: "Harris's decision comes after this week announcing she wouldn't wear
her uniform due to backlash from some in the LGBT community over having
the police represented in such a high-profile manner during the Atlanta
Pride parade after the controversial police raid of gay bar the Atlanta
Eagle.


This is the average color of the universe.

Rep. Tammy Baldwin (D-WI) urges Hillary Clinton to condemn bill proposed in Uganda that would increase penalties for "aggravated homosexuality" up to and including the death penalty. Here are some of the details on the community discussions of that bill. France slams proposal.

Hugh Jackman turns down offer to host the Oscars for a second year.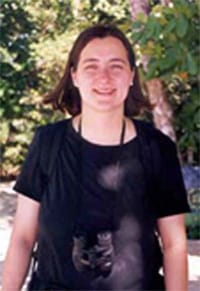 Chicago Cubs become first major-league sports franchise with lesbian owner, Laura Ricketts: "On Oct. 30, the Ricketts family were announced as the new owners of the Cubs, buying the team, Wrigley Field and a share in Comcast SportsNet Chicago for $845 million from the Tribune Co, according to MLB.com. Pete, Todd, Tom and Laura make up the board of directors, with Tom as chairman, NBC.com added. "

Study: "Illegal" music file-sharers spend more money buying music.

Call of Duty: Modern Warfare 2 video game spot pulled after outrage over "FAGS" acronym.

Gay groups to protest Focus on the Family conference in Birmingham, Alabama. In related news, James Dobson is exiting the group in February.

Robert Pattinson does Vanity Fair.

Male model fix: Matt Loewen.

NYT's Deborah Solomon interviews Maine governor John Baldacci.

Dan Savage: A Halloween tale about why we're winning.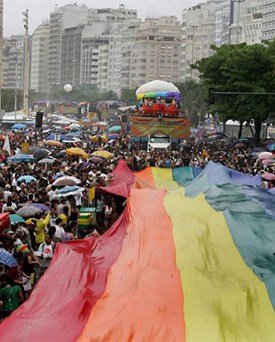 One million celebrate rainy Pride in Rio.

NYT on Referendum 71 in Washington and the attempt by Protect Marriage Washington to keep private the names of signers
of the petition to get it on the ballot: "The case, legal experts say,
could chart new territory well beyond Washington State. The United
States Court of Appeals for the Ninth Circuit, which had ordered the
release of the signatures, said the case presented 'novel questions of
whether referendum petition signatures are protected speech under the
First Amendment.'"

World's largest cruise ship sets sail from Finland, heads for Florida.

Ethan Hawke praises Madonna for speaking out for Romania's Gypsies: "She transcended being a pop star. She drew
international attention and shone the spotlight on a level of racism
and the need for greater education."

White House visitor logs opened… BBC:
"The White House put some 480 visitor records online on Friday in
response to specific requests for information. The newly-released data
covers a period from 20 January to 31 July and includes about 100
meetings with Mr Obama. From December, all visitor records will be
posted, as part of President Obama's pledge on greater transparency."