A couple of our Minneapolis readers sent in this column from the Star-Tribune by Katherine Kersten, which apparently had no counterpoint.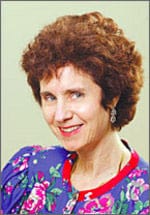 Writes Kersten:
"Once marriage is stripped of its organic purpose, why restrict it to
two people? Two lesbians and the sperm donor for their child,
polygamists, bisexuals: All will want society to recognize and respect
their relationships. And why should marriage be open only to people with a sexual
relationship? That discriminates against two female friends who want to
share the burdens of rearing their kids, or a disabled brother and
sister who live together. Some of the most influential proponents of
same-sex marriage seek to 'get the state out of the marriage business'
altogether. It's ironic that in other realms of life, Americans are very aware
of the risks of tampering excessively with nature. Many of those urging
us to transform humankind's fundamental social institution are the very
people who preach about such risks in the environmental context and
warn that the actions of individuals affect the well-being of all. The
natural world, they say, can stretch only so far before breaking as we
tinker with the realities of its systems."
The Perilous, Slippery Slope of Gay Marriage [star tribune]