In September I posted about a bill signed by Arizona Governor Jan Brewer eliminating state domestic partner benefits a year after they were implemented.
The Arizona Daily Star reported at the time: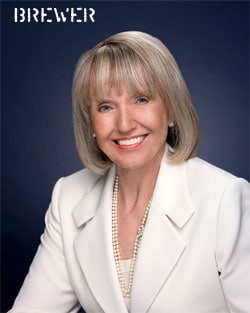 "A bill signed by Gov. Jan Brewer redefined a 'dependent,'
canceling the rule change made by Gov. Janet Napolitano that allowed
domestic partners to receive benefits. Also eliminated are children of domestic partners, full-time
students ages 23-24 and disabled adult dependents. The legislation is
in legal review. About 800 state employees are affected, according to the state's administration department."
Brewer, as you may also remember, takes direction from God when deciding how to solve the state's problems.
Lambda Legal has now filed a case attempting to block the move: "The lawsuit filed in U.S. District Court in Phoenix claims the move amounts to a violation of constitutional protections that guarantee equal treatment of all individuals. Specifically, attorney Tara Borelli of the Lambda Legal Defense and Education Fund said denying benefits to gay workers that are available to others amounts to paying them less for the same work.
'These gay and lesbian state workers just want the same thing that workers at the next desk, in the next patrol car, get,' she said. That argument was echoed by Tracy Collins, a senior patrol officer with the Department of Public Safety, one of the 10 plaintiffs in the lawsuit. If the change takes effect as scheduled next Oct. 1, she will lose the benefits that now go to her partner and the children they share."
The suit's plaintiffs come from the Arizona Highway Patrol, the State Department of Game and Fish and state universities, according to Lambda Legal.
Said Staff Attorney Tara Borelli: "This is an issue of equal pay for equal work.By stripping away these vital
benefits from loyal state employees, the state isn't just paying them
less for the same work than their heterosexual colleagues — it's
pulling away a vital lifeline that all workers need. This is simply
cruel and saves the state next to nothing."