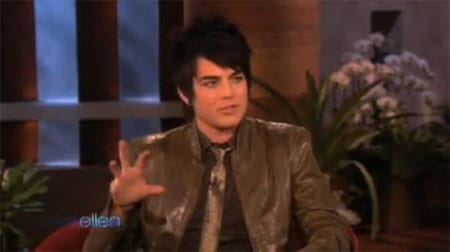 Adam Lambert appeared on Ellen today and talked about the American Music Awards controversy, saying he might have gone a bit too far:
"I think in hindsight I look back on it and I go ok, maybe that wasn'tthe best first impression to make again, the first second impression. Imean I had fun up there, I had a good time, my dancers had fun and theband had fun. I respect people and feel like peoplewalked away from that feeling disrespected.  I would never intend todisrespect anybody. So that was not my intention."
Said Ellen: "If you're going to be offended by a show of sexuality onstage, then you should be offended by all shows of sexuality."
Watch the interview and performance of "Whatya Want from Me?", AFTER THE JUMP…
In related news, the Lambert performance has caused ABC/Disney to tighten its standards: "Disney/ ABC Television Group President Anne Sweeney said that the network will now ask artists for assurances that their stage show will resemble their rehearsals and that ABC will seek contractual obligation to make sure artists stick to those plans."
And, Barbara Walters finds Adam Lambert and Lady Gaga fascinating.