Backers of Proposition 8 do not have to turn over internal campaign documents as ordered by Judge Vaughn Walker in October, a federal appeals court ruled yesterday: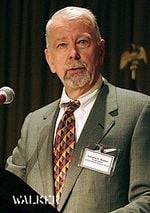 "In a unanimous ruling Friday, the Ninth U.S. Circuit of Appeals tossed out the order that Chief U.S. District Judge Vaughn Walker issued in October against backers of Prop. 8, which state voters approved in November 2008.
Walker had said lawyers for two same-sex couples and a gay-rights group were entitled to see internal memos and e-mails between Yes on 8 strategists to look for evidence that the campaign had exploited prejudice against gays and lesbians.
The plaintiffs are trying to show that the measure was discriminatory and thus unconstitutional.
Prop. 8 sponsors argued that their discussions were constitutionally protected and that Walker's order would discourage candid communications in political campaigns. The three-judge appeals court panel unanimously agreed."
Read the ruling HERE (PDF). The federal trial challenging Prop 8 is scheduled to begin on January 11.