UPDATED
The D.C. Council has voted 11-2 in favor of marriage equality: "It was the first of two votes on the issue allowing same-sex marriage in the nation's capital. The
bill sponsored by openly gay Councilman David Catania has been expected
to pass for some time, as 10 of the 13 council members supported its
introduction. The final vote is expected later this month, and Mayor Adrian Fenty has said he will sign the bill."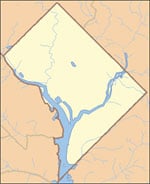 "The D.C. Council will take the first of two scheduled votes Tuesday morning on a bill to legalize same-sex marriage in the District.
The debate at the John A. Wilson Building is expected to draw throngs of supporters and opponents of same-sex marriage.
But with 10 of 13 council members sponsoring the bill, its passage is all but certain. Following Tuesday's vote, the council will take a second vote in two weeks before the proposal goes to Mayor Adrian M. Fenty (D), who has vowed to sign it.
In the weeks leading up to Tuesday's vote, D.C. Council members have been locked in a heated debate with the Catholic Archdiocese of Washington over some of the provisions of the bill.
As drafted, religious organizations would not have to participate in same-sex weddings, but there has been considerable debate about whether they would have to extend the same benefits to their married gay employees as heterosexual couples.
Council members are expected to address church concerns, but are not likely to make major changes to the bill."