Another gay bookstore has announced its doors are shutting. Lambda Rising, with two locations in Washington D.C. and Rehoboth Beach, Delaware closing in early January, according to a message on Facebook: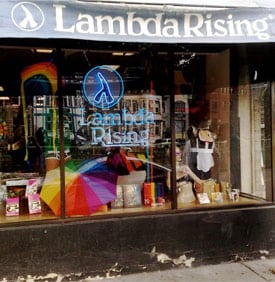 "Lambda Rising, known for 35 years as Washington's "bookstore that celebrates the gay and lesbian experience," has announced the imminent closing of their two stores in Washington DC and Rehoboth Beach DE.
"The phrase 'mission accomplished' has gotten a bad rap in recent years," said Deacon Maccubbin, Lambda Rising's founder and co-owner, 'but in this case, it certainly applies. When we set out to establish Lambda Rising in 1974, it was intended as a demonstration of the demand for gay and lesbian literature.' Maccubbin founded Lambda Rising on a shoestring – the initial investment consisted of $3,000 he had saved and another $1,000 borrowed from a local gay activist. When the store opened June 8, 1974 in a 300 square foot room in a townhouse on 20th Street NW, it boasted 250 gay and lesbian book titles. "That's all there were at the time," Maccubbin explains.
But it was enough to capture the attention and the loyal patronage of Washington's glbt community. It also captured the attention of anti-gay forces – phone harassment was an almost daily occurrence, bricks were hurled through windows, and police had to bring their bomb-sniffing dogs following some threats. But the staff held their ground and kept the doors open seven days a week. 'Over the years, we have been blessed with wonderful staff members, people who shared the vision and who were committed to being on the front lines of the battle for glbt equality every day. I will forever be grateful to them,' Maccubbin said."
This trend appears to be accelerating. Late last month I posted about the closing of Indianapolis' only gay bookstore, Out Word Bound.
(image suite 101)