Seven members of a neo-Nazi group in Brazil have been arrested for a gay pride bomb attack in Sao Paulo in June which injured 22 people, Agence France Presse reports: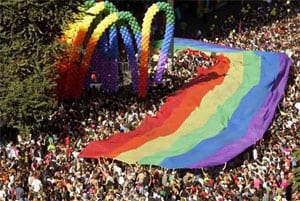 "The four men and three women arrested are members of the 'Hooligan Impact' group suspected of setting off a homemade bomb inside a bar in the city's gay district after a gay pride parade, according to the police's Racial Crimes and Hate Crime unit.
Two of the suspects were arrested 10 days ago and five others were picked up on Friday, unit chief Margarette Barreto said.
They will be charged with organised crime and with injuring 12 people, police said, adding that only 12 of the 22 injured people came forth to press charges after the bombing.
Police tracked down the suspects from a threatening email sent to the parade's organiser. The message led to a neo-Nazi website with photographs of its members that were then compared to pictures taken near the bar that was attacked."