Marriage equality goes into effect at 12:01 am in New Hampshire, and some couples aren't wasting any time: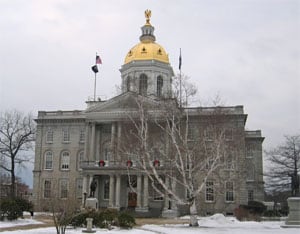 "A handful of gay couples plan to celebrate the New Year and New Hampshire's law legalizing gay marriage by exchanging their vows in front of the Statehouse just after midnight.
Mo Baxley of New Hampshire Freedom to Marry said Wednesday that a few couples plan to get married while others who got married in other states will celebrate with them.
Two years ago, about three dozen gay couples celebrated the state's new civil union law by entering into unions at the Statehouse."
Governor John Lynch signed the marriage equality legislation back in June. Emboldened by the bigot victory in Maine this year, anti-gays are eying a repeal of the law in New Hampshire.