Two Michigan State University professors are pushing the notion of "e-marriages" wherein states with marriage equality make available online marriage licenses for those in other states: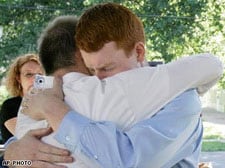 "Candeub and fellow researcher Mae Kuykendall are law professors at Michigan State University. They say marriage laws need to be more experimental, in ways that meet the needs of couples and the state. 'What we're arguing for is that states should formalize in their laws what they've always been doing in smaller degrees in specific areas, which is, allow people outside their states to use their laws,' Candeub said.
With an 'e-marriage,' Candeub believes couples anywhere could go online and download their license from a state where same-sex marriage is legal. Then, they could still have their hometown ceremony with family and friends, the kiss and the cake.
Candeub says the proposal also has value for heterosexual couples, especially those deployed in the military. He argues that e-marriage could better facilitate long-distance weddings.
Still, the concept fails to change the reality that the vast majority of states refuse to recognize same-sex marriage. And online marriage could pose an economic threat to states where it is legal."