And in the Garden State: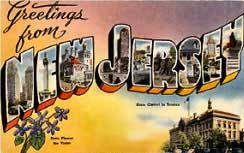 "Some 200 prominent New Jersey Democrats are urging the Legislature to vote on a gay marriage bill.
The Democrats , including members of Congress, fundraisers and lobbyists , released a letter to leaders in the Senate and Assembly Tuesday demanding the bill be voted up or down before the lame-duck session ends in January."
The Trentonian reports: "Signers include Reps. Steve Rothman and Rush Holt, mayors Cory Booker of Newark and David DelVecchio of Lambertville, Public Advocate Ron Chen, and dozens of rank-and-file Democrats."
Yesterday, lawmakers expressed pessimism about having the votes to pass such a bill.
Said Steve Goldstein of Garden State Equality, the state's leading gay rights group: "Many of us in the progressive movement just want to throw up. Democrats put out one hand out to ask for money, and with the other they stab you in the back."