The New Jersey Senate vote scheduled for Thursday on the marriage equality bill has been delayed while the Assembly has a chance to hear it, the Star-Ledger reports: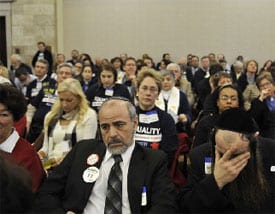 "Sens. Ray Lesniak (D-Union) and Loretta Weinberg (D-Bergen) said the bill — which was up for passage on Thursday — instead will likely be introduced in the Assembly Judiciary Committee in preparation for a vote by the lower house. Senate President Richard Codey (D-Essex) has agreed to postpone the vote until the Assembly Judiciary Committee holds a hearing on the measure.
While disappointed the vote was delayed, Assembly Speaker Joseph Roberts (D-Camden) said it was a good thing that more members of the public would be able to have their say as the lower house debates the issue.
Roberts, an outspoken supporter of the legislation, added that no hearing has been scheduled as of yet and the bill is still being discussed within his caucus…Lesniak said he still expects a vote on same-sex marriage in both houses before the end of the lame-duck legislative session in January. Advocates are pushing for passage of the bill before Gov. Jon Corzine leaves office Jan. 19. Corzine supports the measure, while incoming Gov. Chris Christie says he will veto it."
Zachary Fink reports: "Here is the bottom line: the votes are not there in the Senate. And
it appears as though they are there in the Assembly – to clear the both
the Judiciary committee and to pass the full house. Assembly Speaker
Joe Roberts is unlikely to give dates for the upcoming hearing and
subsequent floor debate, but I understand it could be early January. Initially, members of the Assembly had said they would not consider
gay marriage until the Senate passed the bill. That thinking seems to
have now been turned on its head."