The NY Times reports: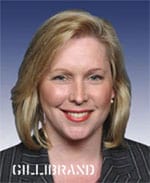 "The decision by Mr. Giuliani, 65, leaves Senator Gillibrand — who was appointed to her seat less than a year ago, has never run in a statewide election, and is still unfamiliar to many voters — without a high-profile Republican opponent as she faces election to the seat.
As recently as a week ago, a Quinnipiac University poll showed Mr. Giuliani leading Ms. Gillibrand in a hypothetical matchup, 50 percent to 40 percent.
Mr. Giuliani, whose decision to forgo a race for governor was reported a month ago, plans to endorse Rick Lazio for governor of New York on Tuesday afternoon at a news conference in Manhattan, the Republicans said."
Gillibrand was also endorsed last week by another potential Democratic opponent, openly gay Suffolk County lawmaker Jon Cooper.