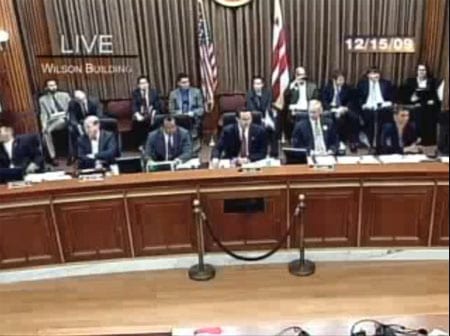 Here's the roll call vote at the D.C. Council which passed marriage equality today by a vote of 11-2. Some of the council members said "I do" rather than "aye", which provoked some laughter. The chamber erupted in cheers as the vote was announced.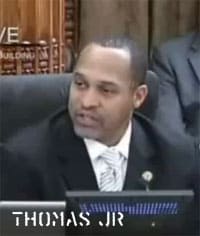 I've also posted the inspired testimony of D.C. Councilmember Harry Thomas, Jr.
Watch, AFTER THE JUMP…
Predictably, the National Organziation for Marriage (NOM) quickly sent out an email blast and statement saying "We will overturn your same-sex marriage bill". Said Brian Brown: "The people of D.C. have a right, guaranteed by the charter, which isD.C.'s constitution, to vote to protect marriage. Politicians on thecity council are acting as if they have the right through legislationto deprive citizens of D.C. of their core civil right to vote, but wewill not let them get away with it. We have one message for David Catania and the rest ofthese politicians today: this fight is not over. We will go toCongress, we will go to the courts, we will fight for the people'sright to vote and we will win!" 
Bishop Harry Jackson has pretty much threatened the same thing.
Episcopal Diocese of Washington Bishop John Chane praised today's vote: "For too long, these couples have been denied rights that heterosexualcouples take for granted, such as spousal health and pension benefits,and the right to make crucial medical decisions on behalf of anincapacitated partner. They have alsobeen denied the recognition that their relationships are every bit asimportant, and every bit as life-giving, as those of their straightfriends. While no law, in and of itself, can change social attitudes,this one sends a powerful signal that the District of Columbia standsagainst prejudice and on the side of equality."
Video action, AFTER THE JUMP…