Some news from the heartland: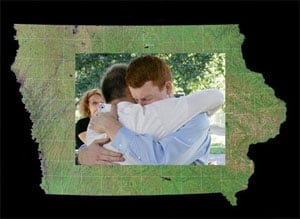 "One Iowa, Iowa's largest gay rights group, has announced the formation of a broad coalition of groups opposed to a constitutional amendment to deny civil marriage equality to gay and lesbian couples.
The 71 Iowa groups have a combined membership of nearly 150,000 Iowans and include labor, civil rights and faith groups. 'Iowans believe in treating their neighbors with respect. That's why a growing chorus of Iowans is speaking up to say discrimination has no place in the Iowa Constitution,' One Iowa Executive Director Carolyn Jenison said.
The announcement comes in advance of Sunday's Equality: Red Blue Purple campaign kickoff and the beginning of the 2010 Iowa legislative session Monday.
The campaign kickoff will be at 3 p.m. Jan. 10 at the Des Moines Social Club, 1408 Locust St., Des Moines."
Anti-equality groups are busy planning a legislative assault to ban equality even though they know it has no chances in the coming year.