In a vote of 6-4, the Indiana Senate Judiciary Committee has approved a resolution from Sen. Carlin Yoder, R-Middlebury that would allow voters to decide if "only a marriage between one man and one woman shall be valid or recognized as a marriage in Indiana," the South Bend Tribune reports.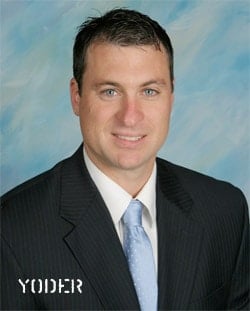 Said Yoder: "I firmly believe in the sacred definition of marriage as Indiana has always known it, as it is written in statute. This is not in any way an attack on the gay and lesbian community," he
said. "By doing this, we are not taking away any rights from the gay
and lesbian community in Indiana."
Adds the paper: "The measure brought out people from both sides of the issue. Five people, including pastors, lawyers and politicians, spoke in favor of the amendment, and nine people — pastors, parents and civil rights advocates — voiced their opposition. A few dozen people, some displaying signs against the measure, congregated quietly in the hall outside the Senate chamber.
Supporters of Yoder's amendment said giving Indiana voters the opportunity to add it to the constitution will protect the state's marriage law from the whims of court and legislative decisions. Opponents said it amounts to discrimination and is unnecessary because the state already has a ban on gay marriage."