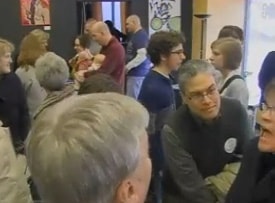 Approximately 200-300 people attended a rally on Sunday supporting marriage equality in Des Moines:
"Six speakers touted Iowa's long history of equality, their pridefollowing the Iowa Supreme Court ruling in April that made gay marriagelegal, and how Iowans must not allow legislators to reverse thedecision. The group also unveiled a new commercial in support of gaymarriage. 'This is what Iowa should be known for – fairness and also what I thinkis an equitable way of life,' said Lorenzo Sandoval, a Des Moinesresident. State Sen. Majority Leader Mike Gronstal, D-Council Bluffs, stopped in to pledge his support for same-sex couples."
More on the ad and when it is running here.
Watch a news report, AFTER THE JUMP…